04 September – 11 September 2010
During the night from September 4 to 5 opened the SURVIVAL KIT 2 contemporary art festival, organised by the Latvian Centre for Contemporary Art for a second year. It took place alongside the activities of the White Night contemporary culture forum. More than 70 artists reflected and produced different survival strategies in the contemporary world. Exhibitions, workshops, performances, film programme and lectures took place from September 4 until September 11.
Participants: Mari Aaltonen (FI), Markus Ambach (DE), Vera Arjoma (FI), Baba, Babette, Arnis Balčus, Pauls Bankovskis, Rihards Bargais, Māris Bērziņš, Aigars Bikše, Gunārs Bībers, Linda Blanka, Mārtiņš Blanks, Aigars Borneo, Ēriks Božis, Pavel Braila (DE/MD), Kristians Brekte, Brigāde, Nataša Burliko, Izolde Cēsniece, Daba (Mārtiņš Dāboliņš), Dad Cafe, Daiļi, Elīna Eihmane, Jānis Filipovičs, Miķelis Fišers, Gerhard Friedl (DE), Jose Javier Manzur Garcia, Give Us Work, Patrick Graf (CH), Marta Ģibiete, Lukáš Hájek (CZ), Semjons Haņins un teksta grupa Orbīta, Kirils Himičevs, Ciprian Homorodean (FR/RO), James C. Hopkins (US), Laura Horelli (DE), Pie Humberta, Patrick Jambon (DE), Toms Jansons, Valdis Jansons, Guntis Jasotis, Atis Jēkabsons, Dāvis Kaņepe, Flo Kasearu (EE), Kirils Kirasirovs, Ilva Kļaviņa, Romans Korovins, Rob van Kranenburg (NL), Reinhard Krehl (DE), (K)riteņbraucēji, Kate Krolle, Daiga Krūze, Maija Kurševa, Brigitta Kuster (DE), Nina Lassila (DE), Anda Lāce, Līga Laurenoviča, Antoine Lefebvre (FR), Kārlis Lesiņš, Kaspars Lielgalvis, Lita Liepa, Lira, Elise Makitalo (FI), Moise Merlin Mabouna (DE), Haralds Matulis, biedrība Mākslas telpa (Inese Baranovska, Diāna Dimza – Dimme, Daiga Dupate, Inga Lāce) Una Meiberga, Inga Meldere, Angela Melitopoulos (DE), Melnais knābis, Laura Meļķe, Miit, Eléonore de Montesquiou (FR/DE), Muhamors, Sanita Muižniece, Nabaklab, Katrīna Neiburga, Ansis Nikolovskis, Jēkabs Nīmanis, radošā apvienība Nomadi (Krista Burāne, Mārtiņš Eihe), Tanja Ostojic (DE), Ingrīda Pičukāne, Renāte Pablaka, Elita Patmalniece, studija Peahen (Patricija Brekte, Madara Makare, Kristīne Kušnere), Philip Pedersen (FI), Latvijas Performances mākslas savienība (Zane Matule, Gatis Vectirāns, Ilze Treimane, Laura Zvilna), Petra Petileta (CZ/LV), Elīna Poikāne, Zdeněk Porcal (CZ), Rosa von Praunheim (DE), Laura Prikule, Krists Pudzens, Sanita Pušpure, Janne Rahkila (FI), Santa Remere, Emīls Rode, Baņuta Rubess, David Rych (DE), Benjamin Sabatier (FR), Krišs Salmanis, ¼ Satori, Katrīna Sauškina, Evamaria Schaller (AT), Meggie Schneider (DE), starpnozaru mākslas grupa Serde (Signe Pucena, Uģis Pucens, Ieva Vītola), Ineta Sipunova, Isabell Spengler (DE), Laura Stasiulyte (LT), SUPERFLEX (DK), Apolonija Sustersic (NL/SI), Modris Svilāns, Maksims Šenteļevs, Dāvids Šilters, Ilmārs Šlāpins, Irina Špičaka, Rasa Šulca, Taka, Pilar Talavera (PE), Tasty, Taša, Tinto, Iveta Vaivode, Ilze Vanaga, Steve Vanoni (US), Iliāna Veinberga, Ieva Veita, Simona Veilande, Oskars Veilands, Toms Veilands, Sabīne Vekmane, Eva Vēvere, Paivi Viinikainen (FI), Gitte Villesen (DE/DK), Andris Vītoliņš, Margita Zālīte, Zane Zajančkauska, Laura Ziemele, Krišs Zilgalvis un galerija Noass, Juris Zvirgzdiņš, XX Gadsimts.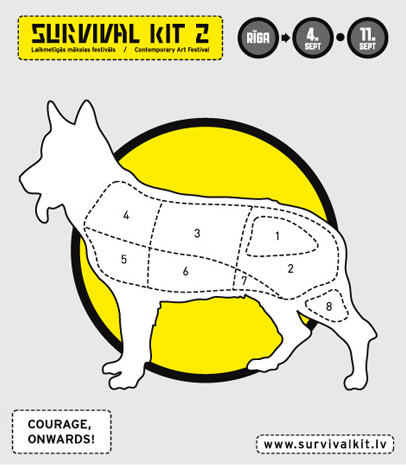 The SURVIVAL KIT festival was launched in 2009 in response to the dramatic crisis-induced changes within Latvian society. This year the festival will continue to beat to the pulse of the latest trends and positive transformations within cities, society and the world at large, and report on the contribution of artists in making the world a better place.
"In the last year, parallel to the opening of multifunctional shops, coffee bars and hairdressers with their own cultural programme, several creative hubs have come to the fore in Riga. The city has also witnessed the development of creative incubators encouraging interaction between culture and business. These new initiatives declare culture as a substantial component of the "survival kit" and as a vehicle for future development," says SURVIVAL KIT 2 Festival Curator Solvita Krese.
This year SURVIVAL KIT will showcase its inventory in the newly created culture archipelago at Miera iela, Baznicas iela and E. Birznieka – Upiša iela as well as at Spikeri, in Old Riga and in the VEF factory corpuses. Thanks to the hospitality of accommodating building owners empty premises at Bergs Bazaar, Upitis Arcade and Miera iela will also serve as festival venues.
The impressively flooded McDonald's by "Superflex", the latest film from Katrina Neiburga about the traditions of the countryside wedding in Latvia and the "Musical Catafalque" by extravagant Berlin based performance artist Margarita Zalite are only some of the surprises in store during SURVIVAL KIT 2. The festival will also record the way in which artists search for survival recipes in family values, in the presence of nature, by developing different "do it yourself!" practices, trying out different versions of alternative economics, as well as building new world models. It will also see artists turning their attention to current social and political issues, registering the impressions of economic failures inthe urban environment and talking with humour about the drowning ambitions of global capitalism.
"SURVIVAL KIT 2 is an attempt to underline that we can influence the environment we live for the better on a shoestring, and that we can create our own perfect city by involving neighbourhood residents, neighbours and passersby,'' says Solvita Krese. It is planned that SURVIVAL KIT will continue to evolve right through to 2014 when Riga will take on the mantle of European Cultural Capital.