WELCOME
Before being a thought, hospitality is an act. A pure event. Come in, and be welcome, you, whom I do not know. Hospitality, like forgiveness, is granted unconditionally. It designates, more than a figure, a space where this act of invitation can take place. This space, I believe, is the very site of thought.
*Anne Dufourmantelle. « L'hospitalité, une valeur universelle ? », Insistance, vol. 8, no. 2, 2012, pp. 57-62.
[fusion_builder_container hundred_percent="yes" overflow="visible"][fusion_builder_row][fusion_builder_column type="1_1″ background_position="left top" background_color="" border_size="" border_color="" border_style="solid" spacing="yes" background_image="" background_repeat="no-repeat" padding="" margin_top="0px" margin_bottom="0px" class="" id="" animation_type="" animation_speed="0.3″ animation_direction="left" hide_on_mobile="no" center_content="no" min_height="none"][fusion_imageframe lightbox="yes" style_type="none" bordercolor="" bordersize="0px" borderradius="0″ stylecolor="" align="center" link="http://www.ciprianhomorodean.eu/wp-content/uploads/2019/05/33333.jpg" linktarget="_self" animation_type="0″ animation_direction="down" animation_speed="0.1″ class="" id=""]
[/fusion_imageframe]
Welcome, 2017, metal, 33,75m x 7,5m x 3,40m.
Being hospitable is not something we take lightly nowadays. Much water has gone under the bridge since the times of our ancestors, who praised hospitality and considered it a right, an obligation, even a virtue. Ancient traditions set aside, the very essence of this notion, which preoccupied philosophers since early times, has unfolded and become significant in various areas of social life, gaining the attention of sociologists, economists, and policymakers alike. Indeed, hospitality as a concept and a practice raises many problematic questions, further complicated by globalization, population growth, political conflicts and climate change. Welcoming the Other, recent history proves, is no easy task.
In the present context, Jean-Jacques Rousseau's observation appears more than justified: "Nothing makes one more hospitable than seldom needing to be. It is the abundance of guests which destroys hospitality." And who, we might ask, are our current guests? Just look around you, they're everywhere. They are migrants fleeing warfare, corrupt governments or economic duress; they are tourists who've been sold an attraction-park like vacation trip; they are also just strangers who don't think like us. Who are we willing to welcome into our homes, our cities, our lives? Are solidarity and generosity endless resources? We need not voice our answer out loud, and perhaps it really doesn't matter. We must acknowledge however that there is no simple, straightforward reply. In the meantime, while we figure this out, we build more hotels, we praise borders and set up refugee camps, we install fences and dream of building higher walls to keep the unwelcome outside. No wonder a famous philosopher sustained that an act of hospitality can only be poetic. By bringing to mind these questions through his rendition of the most common hospitality sign, Ciprian Homorodean may have given this thought an artistic nuance.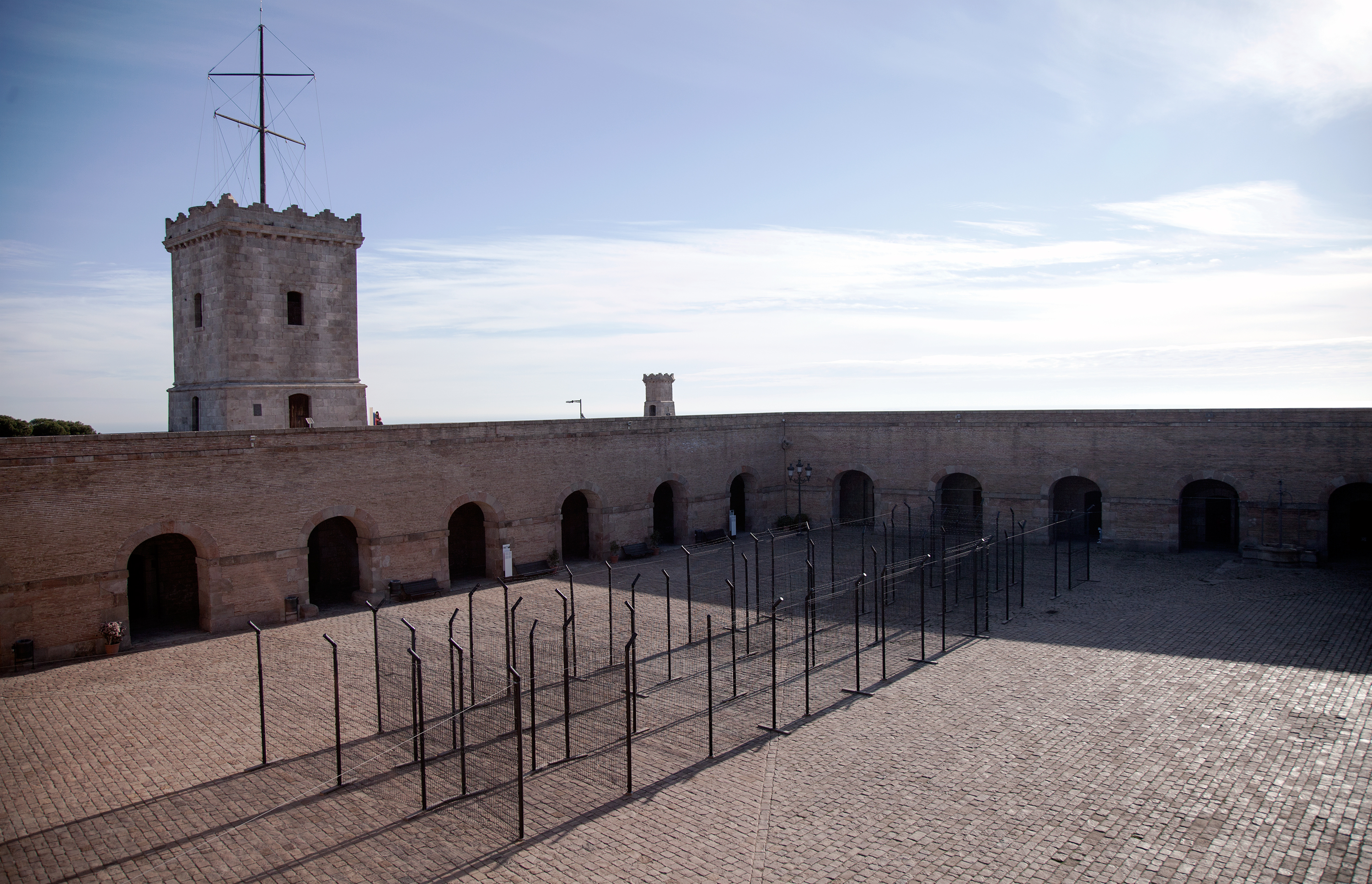 In his monumental installation, Homorodean spells out the word "WELCOME with metallic fences and pillars crowned with barbed wire, creating a labyrinthic ground evocative of a border barrier, a prison or a concentration camp. Visitors may view and experience the work from two different standpoints: from the ground, by walking along the fenced contours of each letter, or from the top of the esplanade, gaining a birds-eye view of the three dimensional word.
Several ideas inform the installation, forming a cluster of topics which render it accessible and interesting to diverse audiences. The intentional cognitive dissonance of the message acts as a common element, as it outlines the main thrust of the work and binds together its multiple interpretations.
A first approach takes into account the militarization of the Montjuic hill, which became a defense stronghold in the 17th Century. Its fate was most unfortunate, as the fortress would be used to wage battle against the very city it was supposed to defend. Later transformed into a prison, a memorial site, and a military museum, it also became -during the Franco years- the site of an abominable political crime.
Associated to such misfortunes, the Montjuic Castle and its grounds were a rather unwelcoming place until 2007, when the fortress became a public site dedicated to social and cultural events, and entrusted to city authorities. Being one the most visible landmarks of Barcelona, the hill is also appreciated for its commanding views, and given the city's current ranking as one of the 20 top tourist destinations of the world, it appeared as an ideal spot to display its welcoming sign. One, however, that would acknowledge the problematic relationship between the locals and the "guiri".
Indeed, residents of Barcelona have a love-hate dynamic with mass-tourism, which undoubtedly contributes to the city's economy, but is also blamed for eroding its quality and peaceable lifestyle.
Another level of interpretation points to more complex geopolitical issues, such as the relentless world conflicts and tensions that constantly force us to reassess the very notions of national identity, territory and borders. The immediate impact of the word "Welcome" is quite obvious, bringing into memory recent international efforts to respond to the largest refugee crisis since the last World War. At the end of 2016, the UN refugee agency reported 65.6 million people were uprooted from their homes. Several countries have opened their doors, or at least they have signaled their intention by displaying "welcome refugees" banners in their city halls. Others simply refuse to get involved, proving that borders set not only geographical limits, but also those of a nation's sense of social responsibility and solidarity. The fence structure that builds out the word is also a reminder of ancient city walls, which although torn down long ago appear to be engrained in our society's view of the world. At different levels, we witness a determination to stand apart, to close up, to unwelcome those who are not like us. With its planned Mexican border wall, the United States makes it clear that it no longer welcomes the tired, the poor, and the huddled masses yearning to breathe free, a tradition until now engrained in American identity. Brexit and the ongoing Catalan undertakings to leave Spain offer further proof of a somewhat recoiling trope, which in this case introduces new challenges to European unity and reveals the fragility of Europe at its core.
A final aspect of Homorodean's work leads to the artist's personal experience with borders and ultimately to his own understanding of confinement and freedom. When he decided to visit the West, Romania was not yet part of the European Union. Not being able to meet the financial requirements for securing a tourist visa, he had to find an alternative safe passage to Belgium, his destination. As many before him, he embarked in a journey that lead him through small village frontiers, corrupt custom officers, and even a couple of fake document dealers… All this in order to reach the Budapest airport and the long awaited flight to Europe. Little did he know that once he arrived there, he would find out that successfully overcoming the obstacles in the East was not enough. Going through customs in Brussels, it was established he didn't have the required financial means to stay, and was therefore instructed to leave within three weeks of his arrival. Enraged by the hasty judgment cast upon him and by what he perceived to be an unfair legislation, the young artist then made up his mind an decided to stay, perhaps simply to prove that he could survive the European challenge. And so he followed a procedure well known by those who encounter legal difficulties for settling there: find a school, pass the admissions test and become a full-time student. Some have even started unplanned careers this way!
Ciprian Homorodean would become a European citizen the following year, when Romania was admitted in the EU.
But this experience opened his eyes to questions that transpire in WELCOME, and more generally in his artistic approach and work. The central figures evoked here, for example, came up previously in WYSIWYG (Biennale de Jaffre, 2015), which displayed grills and barbed wire etched in a mirror, hinting that captivity is not only a physical condition but also a mental state. This, of course, also applies to freedom. The former confronted the spectator to a vision of his own imprisoned self; the latter welcomes the visitor to experience confinement in the flesh.
[/fusion_builder_column][/fusion_builder_row][/fusion_builder_container]